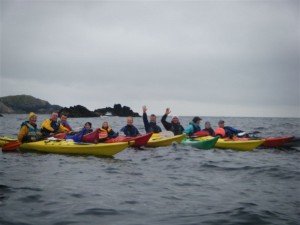 The trip on Tuesday 29 June saw 18 paddlers on the water including 10 of our new One Stars. Some shortened the distance paddled by taking boats to Papil on the trailer.
We crossed over the beach at Bannamin and paddled out to the entrance to the bay. The group all said they wanted to venture out of the bay so we took a short excursion into the Atlantic – a new experience for many. 
Sebastian did a great job holding on to a float so we could raft up
Tam and Craig demonstrated their towing skills
Chris and Debs arrived to help with a rescue at just the right moment
Audrey and Gordon worked well together to give reassurance
I could go on! We packed a lot of action into 35 minutes in the swell! It was really impressive so many stayed the right way up and even managed to smile but the next "Easy" trip will stick to calmer waters.