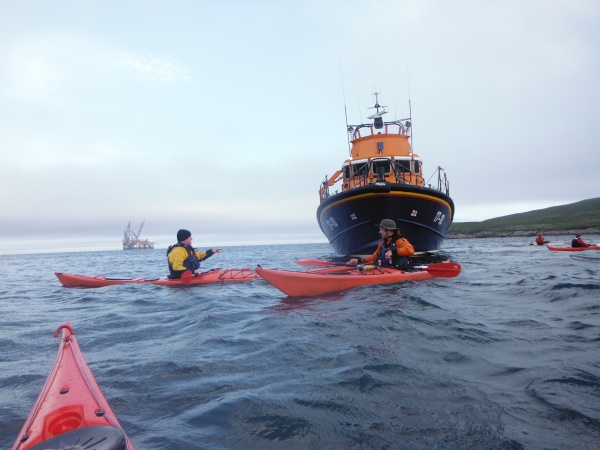 Monday evening saw the planned exercise with the Lerwick Lifeboat kick off in Gulberwick bay.
Club members started running the first scenario, a heart attack victim, while the lifeboat made it's way out from the harbour. After less than five minutes, the lifeboat flew across the mouth of the bay and the rafted paddlers (with victim)  could see help was well on it's way! Watching the bow approaching at speed was quite a sight.  The small boat was dropped over the side and the recovery of various victims ensued. It must rate as one of the most accident-prone trips ever conducted in Shetland by the club with heart problems, dislocated shoulders, lone paddlers in difficulties, swimmers and exhaustion-overcome bodies appearing as if from no-where.
No problems for the lifeboat crew, each scenario dealt with with calm professionalism.
By this point conditions had gone from a bit blustery up to "interesting" as the wind came up, it was almost 8.45pm  and paddlers started to head back to dry land. Once ashore there was the odd tired individual, a lot of discussion, and a bit of a buzz from all those involved.
General consensus – a great learning exercise for the club.
A big thank you must go to all the members of the  Lerwick Lifeboat crew, and to Iain Derbyshire for arranging the evening.