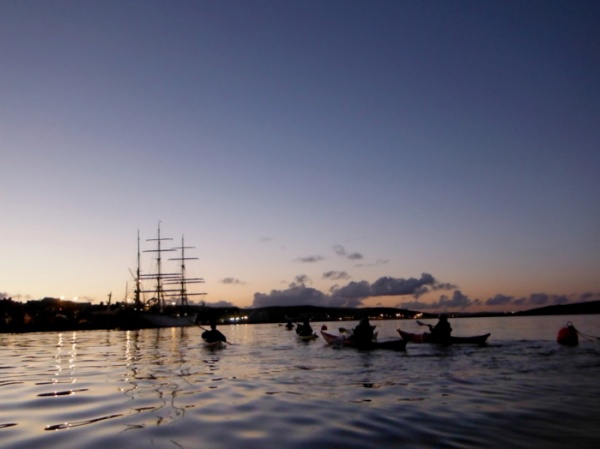 19 paddlers took to the water last night to make the most of one of the best Thursday nights we've had this season. Despite headaches with getting enough boats together, got on the water at the Lerwick Marina and paddled across to Bressay.
As the clouds gave us a stunning display of colours over Bressay, we paddled round to the Bressay Ferry Terminal and turned to cross  back to the mainland, and by the time we were going by the Lerwick Boating Club the shadows had got longer and night fall was close.
Getting back to the marina provided a different view of Lerwick as the street light came on and the paddling in the dusk was a first for many.
Coming ashore, night had fallen and everyone worked hard to get the boats back on the trailer, gear away and took the chance of a chat before heading away home.
Many thanks to Tam for sorting Trailer, Angus for arranging and  loaning additional boats/ paddles and so on.
Getting enough boats and being sure of what we needed was really difficult this trip. Please please please make sure you give the trip organiser as much notice that you're coming as possible as we want to get everyone out on the water that wants to be. Thank you.