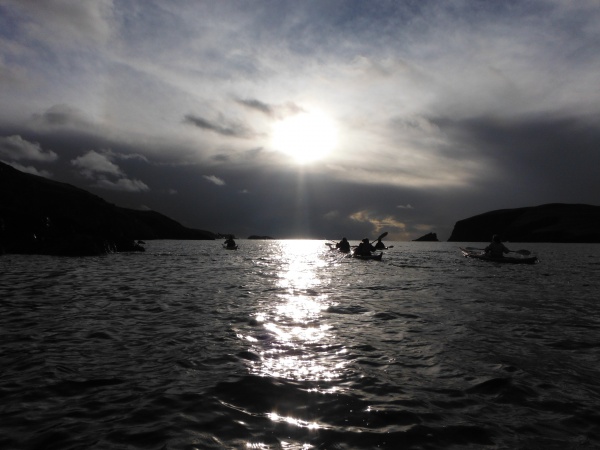 After what can only be described as a wet and blustery Friday, Saturday proved a lovely day for a paddle.  The conditions: cold – yes, but not too bad; very light winds, occasional  rain showers; definitely some confused sea out past Vaila, calmer water in by. The group: six of this year's beginners plus four others.
Setting off south from the Walls Regatta Club slip and keeping close to the east shore, we could feel  the swell building as we got closer to Ram's Head, and after crossing over and after sticking heads round Humla Stack, the decision was to follow the west shore of Easter Sound back towards Walls. Time was spent rock hopping, surfing through a lovely little tunnel, watching a flock of cormorants  launching off of the banks, waiting for blowholes to blow, and chatting until the get out for a bit of a leg stretch. As conditions in Wester Sound were pretty similar to the other end of Vaila, after a bit of a play in some waves we headed almost due north to Burrastow , then back in to Walls by way of the other side of Linga.
Now, normally we'd have loaded up trailers and headed home, happy paddlers. Today we headed over to Janet's house for a very tasty selection of goodies and an extended natter about all things  paddling.
All in all, a great way to spend a Saturday in November.
Many thanks to: Janet for getting a lot of the organisation done and hosting the after-paddle get together; Janet, Laureen, Tracy and Christina for sorting out all that wonderful food; Wendy and Craig (Nicol) for sorting the trailer; and Angus and Catriona for leading the trip.